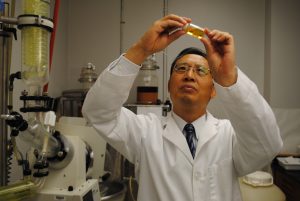 Who Should Attend??
Anyone concerned about improving formulations and bioavailability, creating new products, use of organic pesticides, and post processing!
Why:  To gain insight into the creation of nanoemulsions in complicated systems with difficult materials. Technical presentation addressing issues such as:
Solubility Enhancements
Advantages of high shear fluid processing instruments
The benefits of smaller droplets for nutraceutical products
Methods for particle size analysis
Bioavailability Assessment
Spray drying of formulations – Oil in Water Soluble Products
A Microfluidics M110-P, Microtrac NanoFlex and BUCHI Spray Dryer will be available after the seminar for those wishing to see the latest approach to nanoemulsion creation and particle size analysis.
Dr. Zhijun Liu Ph.D.; Professor, Louisiana State University:  Dr. Liu has been leading a unique medicinal plant program of 20 years. He has expertise in extraction, purification, and standardization of bioactive components. Recently, Dr. Liu has developed formulation technologies using natural excipients to disperse poorly water-soluble compounds such as pyrethrum oil into the nanoscale range.
Dr. Tracy Gibbs; Chief Science Officer, Vasayo:  Dr. Gibbs is the formulator of over 900 dietary supplements and skin care products, patent holder of the AES (Assimilation Enhancing System), author of multiple books and has taught and lectured at worldwide symposiums and conferences.
Donald Maybell, BUCHI Corporation:  Donald is the Product Specialist at BUCHI Corporation with a strong background in Spray Drying.
Gabriela Carroll, Microfluidics: Gabi is the west coast regional sales manager for Microfluidics and has years of experience with fluid processing.
Steve Rapp, RGS Scientific:  Steve Rapp is founder of RGS Scientific which provides sales, service, and distribution for a wide variety of scientific instrumentation including Microtrac and Microfluidics.