[toggle title="Automated Confocal Raman and AFM with the WITec 500A/R"]
WITec's Alpha 500 combines Confocal Raman Imaging and Atomic Form Microscopy into a fully automated and integrated system for scanning multiple samples and/or large sample areas.  The motorized stage and a piezo-driven stage are incorporated with the automated control software to handle a variety of sample types including: tissue samples, multi-well plates, portions of wafers, or any large sample. It not only allows high resolution surface topography imaging with AFM on many different sample positions, but also Raman Imaging, large area Raman scans and multi-point spectra acquisition on a user-defined arbitrary number of measurement points. The AFM and Raman data of the same sample positions can then be matched and linked together for a more comprehensive understanding of the sample's properties.
All features of the Alpha 300A and Alpha 300R systems, combined in a single system
Motorized Sample stage with a range of 150 x 100 mm
Automated functions including auto-focus, automatic tip approach, and image stitching
Integration of TrueSurface® provides for imaging of rough samples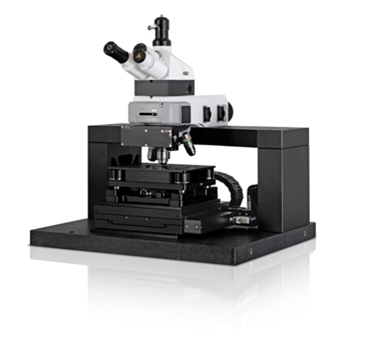 For more information click here.
[/toggle]