The Alpha 300R offers the highest speed, spatial resolution, and spectral resolution available resulting in the most efficient Raman imaging system for 2D and 3D imaging. The diffraction limited resolution allows one to acquire chemical information non-destructively with a resolution down to the optical diffraction limit (~ 200 nm). This unsurpassed spatial imaging of a sample without specialized sample preparation, such as fluorescent tags.  Confocal Raman imaging allows for image stacking within transparent samples in order to obtain 3D images.
Raman spectral acquisition is as little as 1 millisecond – rapid Raman imaging
Piezo stage results in nanometer accuracy in XY and Z – provides for diffraction limited imaging
Raman spectral image stacks – provide 3D imaging and depth profiling
Software provides for not only easy control and image acquisition, but also data analysis and presentation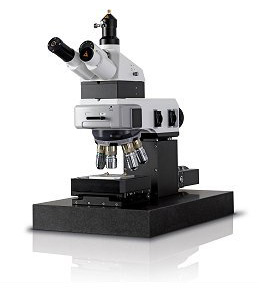 For more information click here.