[toggle title="Combining Large Area Profilometry and Confocal Raman Imaging "]
WITec's TrueSurface® Microscopy option allows confocal Raman imaging guided by surface topography. Confocal microscopy is virtually impossible when analyzing large or rough surfaces. TrueSurface® Microscopy follows the surface topography with high precision, so that even rough or inclined samples always stay in focus. To achieve this unique capability, WITec's microscopes can be equipped with a highly precise sensor for optical profilometry.
Large-area surface topography profiling with confocal Raman imaging
Scan Speed: Up to 2000 pixels/s for rapid data acquisition
Spatial Resolution: 10 – 25 μm laterally and < 100 nm vertically to reveal an expanse of miniscule surface structures
Measuring Distance: 10 mm – 16 mm providing wide-ranging sample size flexibility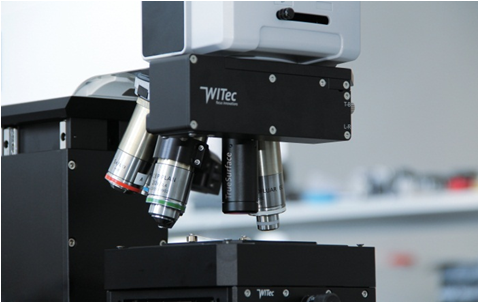 For more information click
here
.
[/toggle]